21.09.2016. Superstudio's Design entry called "To-from-to" has won Design competition for Visual identity, signalization and exhibition design of Rector's Palace in Zadar. We have collaborated with Superstudio on exhibition design for their competition entry using modular elements.
13.09.2016. "Design District Zagreb" festival, organized using our spatial concept, has won HDD Grand Prix award at Croatian Design exhibiton 1516.
27.10.2015. Our "Buza Betina" house recieved Jutarnji list's D&D magazine reader's choice award for the best house in all 50 so far published magazines.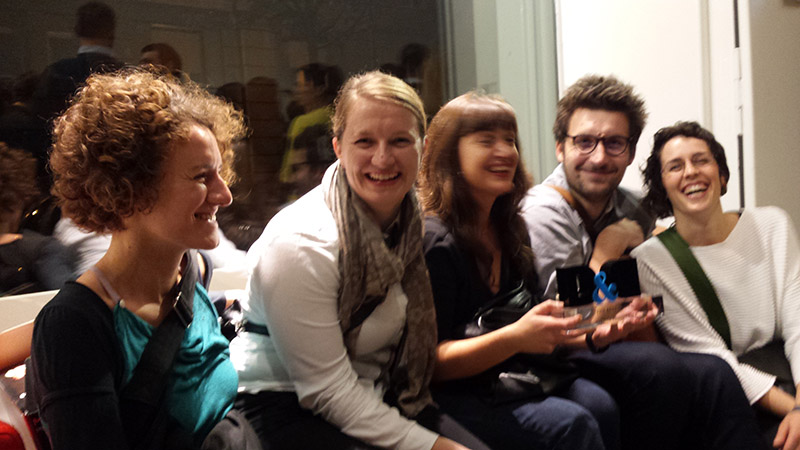 26.10.2015. We visited Kaldewei factory in Ahlen, Germany, and spent time with our colleges from Arta projektiranje,
Ured ovlastenog arhitekta Kriznjak and Krekic.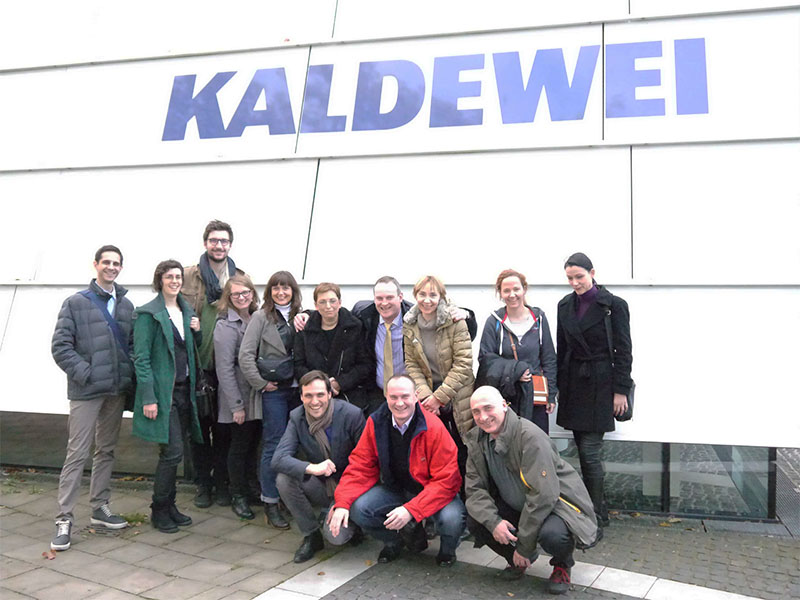 13.07.2015. Croatian internet portal "punkufer.hr" published an article about Villa Hortensia situated in Cikat Bay, on island Losinj.
01.07.2015. Villa Hortensia's facebook and web pages are online.
05.05.2015. Croatian internet portal "Buro 24/7" published an atricle about Lesic Dimitri Palace situated on island Korcula.
05.2015. We participated at the first Educational Workshop for Hospitality Personnel. Presentation about hospitality venues interior design was held by Zora Salopek Baletić.
10.04.2015. The New York Times placed Lesic Dimitri Palace on its "10 Hotels in Europe That Make You Feel at Home" list.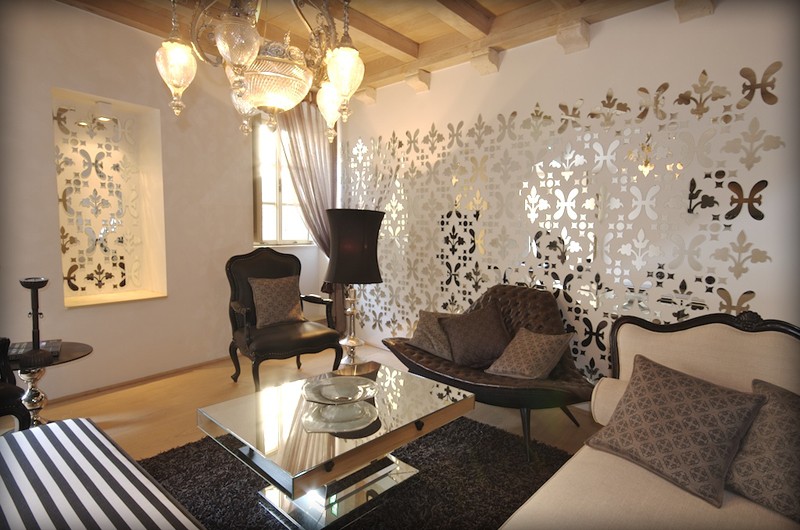 26.08.2013. Croatian internet portal "Dom&Dizajn" published an atricle about Buza Betina house situated on island Murter.
24.10.2013. We participated in go-kart Women's Grand Prix, organized by Telektra and Keram-ital. Our intern Antonija Galac won the race! We would like to thank the organizers, and to congratulate all race participants.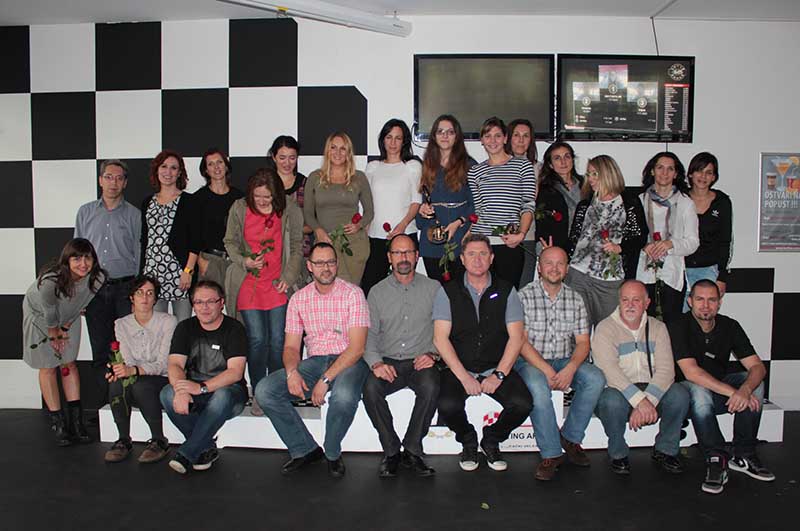 26.08.2013. Croatian internet portal "Dom&Dizajn" published an atricle about Lesic Dimitri Palace situated on island Korcula.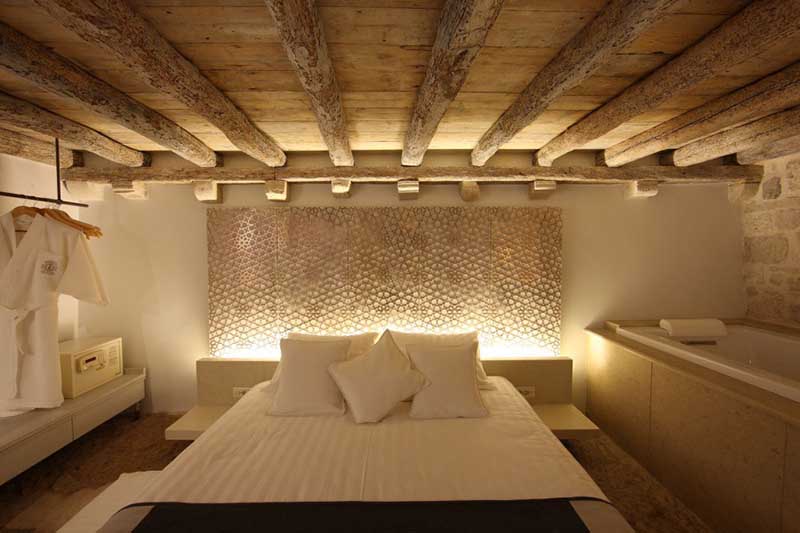 04.07.2013. Zora Salopek Baletić was awarded with Green Building Professional certificate following successful completion of Green Building Professional Year-Round Education Program.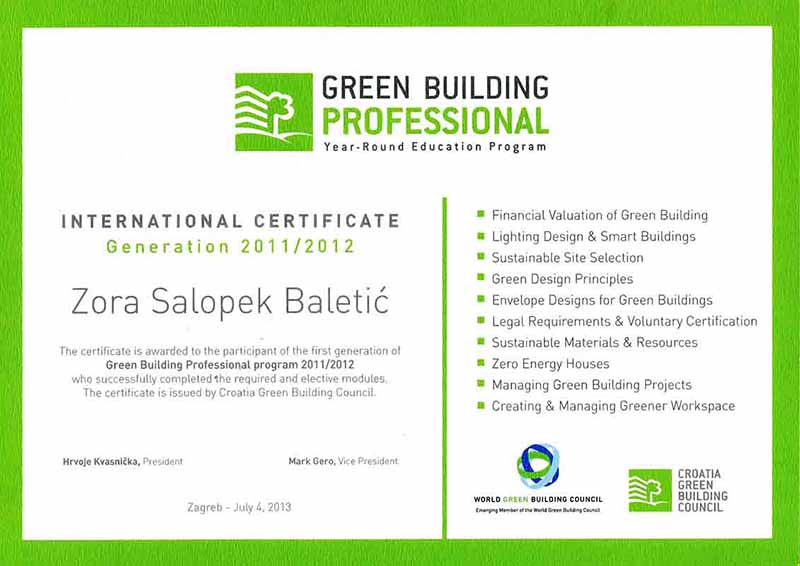 21.12.2011. We became a member of Green Building Council of Croatia.
16.12.2011. We have an optimistic view towards the future and are seeking to embrace further developments of the ecological models of survival. Building makes a big part in this integral model. Our intention is to make a green building principle present in all segments of our projects. Therefore, we research and learn, and from today attend the whole year training program Green Bulding Professional in organization of The Green Building Council in cooperation with other European Councils.
10.05.2011. We are xs company, but all the same we didn't had much of the recession time this year. Still we found some spare time to make and donate the project for educational living room for the Center for nurture and education Dubrava, the only institution in Croatia dedicate to children and young people with the physical disability, by involving them into entire series of rehabilitation and learning programs. We had lack to be the part of it thanks to the suggestion from professor Željka Šemper.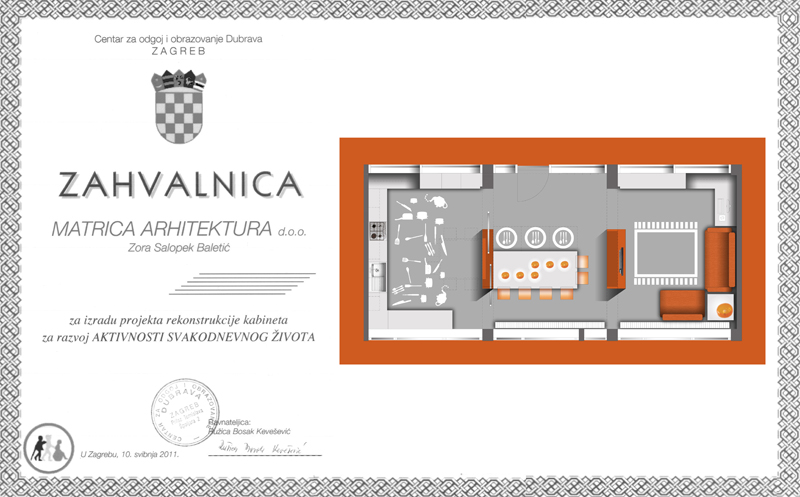 6.04.2011. Attending the international conference Energy Management in Cultural Heritage organized by UNDP Croatia. We took some part in the panel discussion Energy efficiency in cultural heritage and presented energy aspect of the Palace Lešić Dimitri restoration.
http://www.ee.undp.hr/index.php?option=com_content&view=article&id=441&Itemid=348
25.04.2011. Signing of the contract for construction work on restoration of the Veliki Kaptol in Sisak, between the Sisak Diocese and the Sisak construction company GME. Finally, after long and dedicated work on our side, the construction works begin!
http://www.biskupija-sisak.hr/~biskupij/index.php/arhiv/442-za-nekoliko-dana-poinje-obnova-zgrade-veliki-kaptol.html
http://www.radiosisak.hr/index.php?page=article&article_id=3508
23.08.2010. The Privredni vjesnik described Matrica Arhitektura like a company lead by "feminine principle" in its work!
http://www.privredni.hr/index.php?option=com_content&task=view&id=3063&Itemid=2
23.07.2010. The Slobodna Dalmacija make announcement on the wa community award in its column "O kućo mala"!
http://www.slobodnadalmacija.hr/O-ku%C4%87o-mala/tabid/93/articleType/ArticleView/articleId/110305/Default.aspx
25.05.2010. The Palace Lešić Dimitri was added in the list of The 100 Best Hotels in the World, The Sunday Times Travel Magazine, November 2010
"In one of Korcula's alleyways, which trickle through the Old Town towards the sea, this converted 18th-century bishop's palace contains six extraordinary suites named after points on the Marco Polo trail (the man himself is said to have lived next door). A delicious local breakfast is served in your room at whatever hour you fancy, after which there are tubs and terraces and a skippered vintage sailing boat to whisk you away."
http://www.jutarnji.hr/cetiri-hotela-iz-hrvatske--na-popisu-najboljih-malih-europskih-hotela-/794085/
Also the Palace LD was added on the one more list, the Conde Nast Traveler: Hot List Hotel 2010
http://www.cntraveler.com/hotels/europe/croatia/le_i_-dimitri-palace-kor-269-ula-croatia
19.04.2010. Monsignor dr. Vlado Košić, the bishop of Sisak diocese as an investor, architect Zora Salopek Baletić, the director in matrica arhitektura as an designer and architect Davor Salopek, the director in Arhigrad as a supervisor, signed a contract for the restoration projects on Veliki Kaptol building in Sisak.
http://www.sisak.info/?p=10026377
http://www.limun.hr/main.aspx?id=583003&Page=94
04.2010. Matrica won award for one of the 20 best architectural achievement in the competition with 1200 architectural works from all over the world , selected by the Honorary Members, according the web portal World Architecture Community for the interpolation in Korčula.
http://www.worldarchitecture.org/main/winners.asp?winarchive=6thcycle&cyc=6
http://www.d-a-s.hr/aktualno/2152/nagraden-studio-matrica-arhitektura/
http://www.d-a-z.hr/hr/vijesti/arh.-studio-matrica-arhitektura-nagraden,93.html
24.02.2010. The periodical with Jutarnji list - Dom i dizajn publish the interview with architect of the Palace Lešić Dimitri.
18.02.2010. The Palace Lešić Dimitri is short listed and among those entries which were Highly Commended by the Jury, between 2010.year entries to the European Union Prize for Cultural Heritage, Europa Nostra Awards.
2010. During this year Palace Lesic Dimitri was described and evaluated in number of articles all around the world. We like this two articles:
Webzine Running in hills in the article by Becky Middleton Ten of the best…design hotels
http://runninginheels.co.uk/articles/best-design-hotels-europe/
The periodical Moj dom in Slovakia, published a long story about the Palace Lešić Dimitri.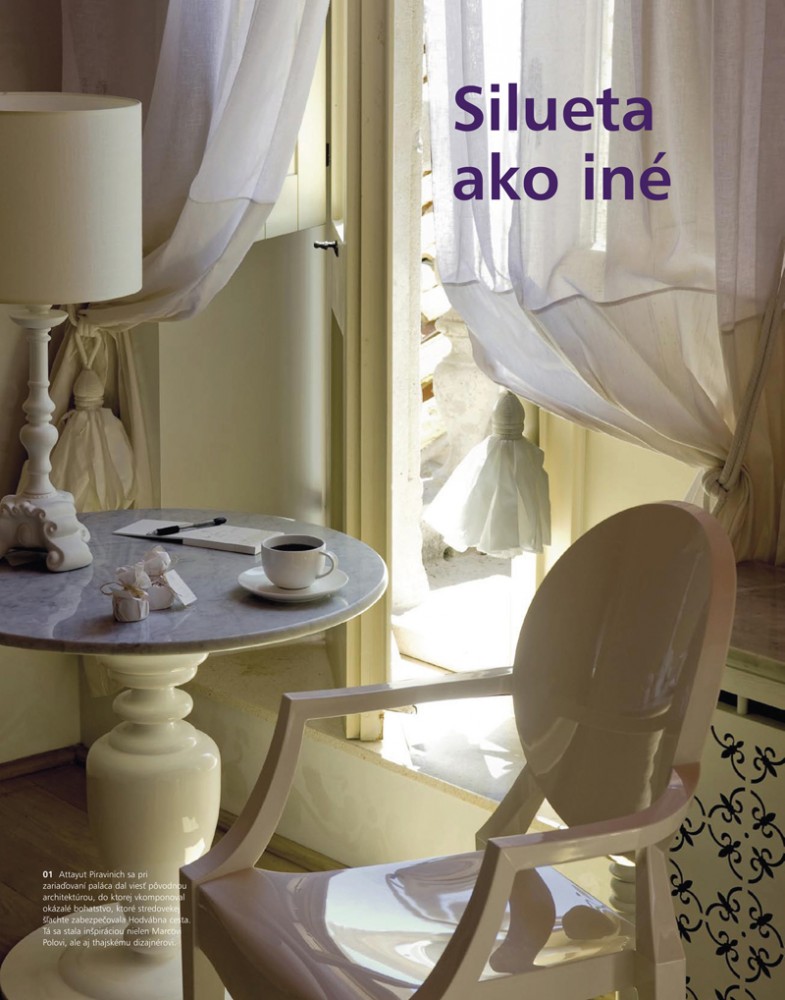 12.12.2009. Opening of the sales exhibition Bor s nama / Christmas tree superstore in HDD (Croatian design society), together with our "bormarić" (christmas tree wardrobe), that we had great fun working on..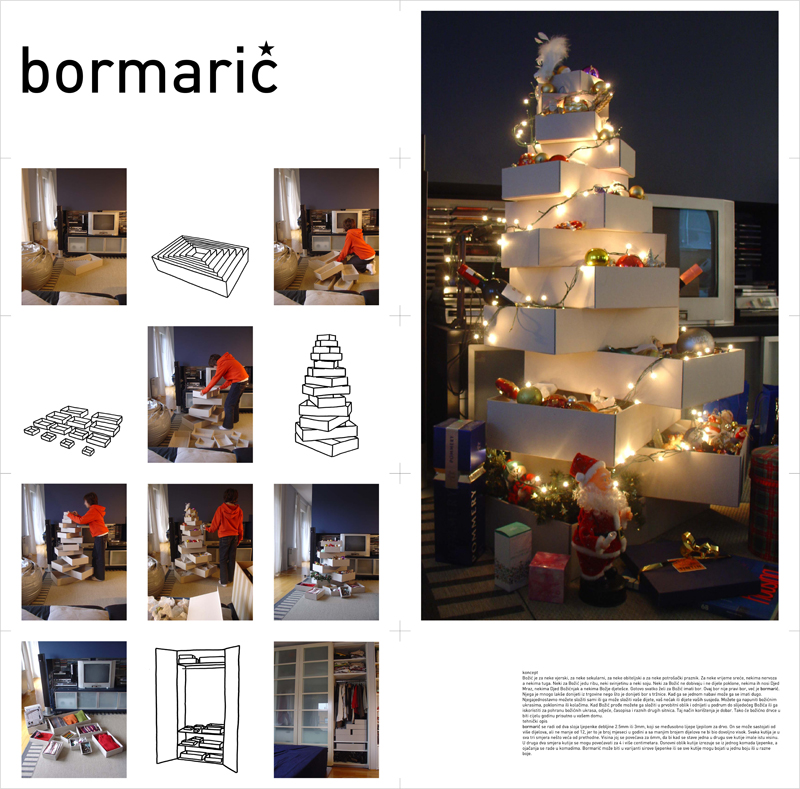 http://dizajn.hr/#/483-bor-s-nama-christmas-tree-superstore/
07.12.2009. The Palace Lešić Dimitri in Korčula is nominated for the annual UHA (Croatian Architects Association) award "Bernardo Bernardi" in the design and interior category, together with 3LHD project for the Zagreb Dance Centre and also the 3LHD project for the Zamet hall in Rijeka, which won the award.
http://www.uha.hr/sadrzaj.php?kategorija_id=21&parent_id1=230&kategorija_id_tekst=230&bl1=2&sel3=0&sel2=230&v2=2
09.2009. ' The fairy tale Palace' is the title of article about the Palace Lešić Dimitri in the column Nice Hotels in the Business Class periodical in the Bussines.hr review.
07/08 2009. The periodical ' Elle dekor ' published the article with the title The travelling of Marko Polo about the Palace Lešić Dimtri.
2.05.2009. The grand opening of the Palace Lešić Dimitri was organized with lots of Croatian and international guests. During the two last days we attended not only the opening of the Palace, but also the opening of the exhibition 'Living in the Palace' at the City Museum and number of different other parties organized all over the old city, in a hospitable atmosphere with many local people. For us, this was beautiful highlight of inspiring work that developed through few last years.